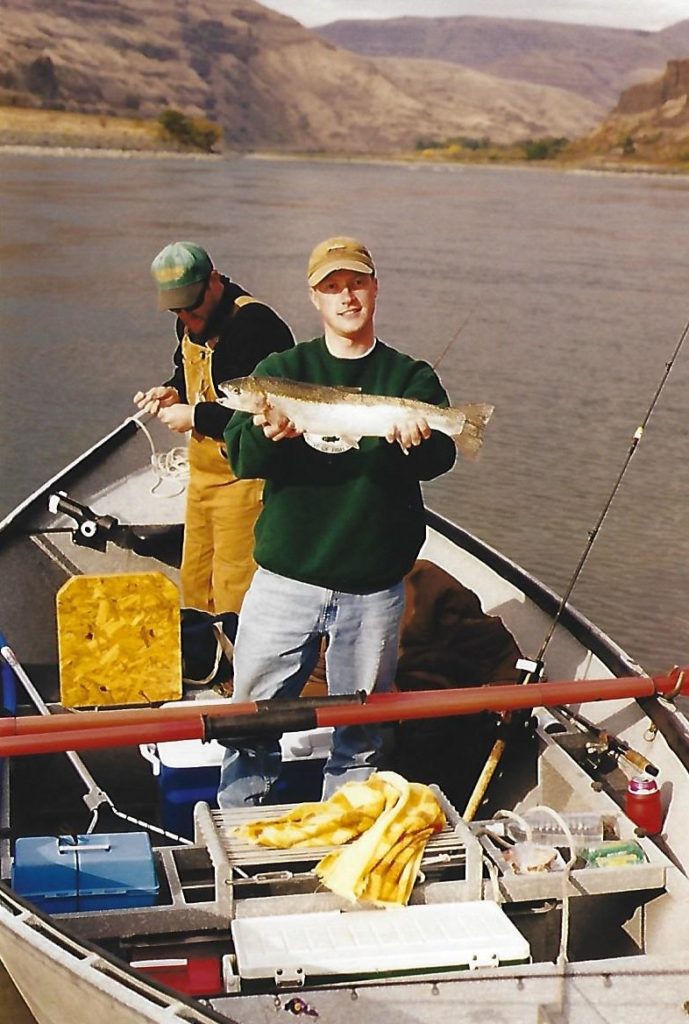 Home town: Moscow, Idaho
Home waters: Living in very close proximity to both the Clearwater and Snake Rivers it'd be hard to show anything but equal deference for the two.
Favorite way to catch steelhead (gear, fly, etc.)?
I've got to be honest, I'm an equal opportunity angler. Whatever technique is going to catch fish on that river system I'm doing it. From fly fishing the upper Salmon, to back-trolling plugs on the Snake, to a bobber and shrimp on the Lower Clearwater. Like they say the Tug is the Drug.
Boat or hike? Why?
In order to be productive, Idaho's big rivers call for a boat. Believe me, there are times on our smaller rivers that hiking is the best or only route but with most of my time spent on the Snake and Clearwater it's a boat game.
Story around the first steelhead you ever caught?
My first steelhead was a hatchery Snake River A-run hen in '97. I had just started my career in Idaho and had a really great boss. At the end of the field season he took me on a day trip on the Snake back-trolling plugs in his old high-sided aluminum drift boat. With Idaho's summer runs comes great fall weather and that's exactly what this day on the Snake brought, along with several steelhead.
Most memorable steelhead camp?
Living in close proximity to Idaho's best steelhead waters, there isn't much need for over-nighters. Things get even more complicated with Idaho's summer run with some of the best fishing found in September, a time with lots of other recreational opportunities including bugling elk.
What's your favorite thing about wild steelhead?
I absolutely love the diversity of the species. From summer to winter runs and A-run to B-run. It's definitely a fish worth a tremendous amount of admiration.
Other hobbies or passions besides wild steelhead?
I'm all about opportunity and living in Idaho provides that. From sturgeon to kokanee and springers to summer run steelhead a year is full of opportunity. I will say that the one thing that gets me most excited in Idaho is the whitetail rut. I'm definitely not a biased sportsman.
Tell us about your career before joining Wild Steelheaders.
I was an Idaho Game Warden for 20 yrs. It was a great career, providing me with daily contact with Idaho sportsman, fish, and wildlife. It was always rewarding apprehending a poacher and leveling the playing field for sportsman.
When you think of the future of wild steelhead, what gives you a sense of hope? What makes you concerned or worried?
I think there is definitely a new appreciation and awareness of the complexities that impact their abundance. Anglers in general are learning more about life histories, issues like the 4H's this has invigorated their voices in advocacy of the species.
Anything else you want Wild Steelheaders United and Trout Unlimited readers to know?
In a time of division it is ever more critical that anglers stay united. I've seen the division among angler groups, pitting themselves against one another, mostly as a result of individual greed. If we are to sustain and recover this species we need to stand united as one voice for one goal, Wild Steelhead.