The North Umpqua, one of the most famous steelhead fisheries in the U.S., had never closed to steelhead fishing until 2021. Now, it will shut down for an entire season, again, due to perilously low numbers of returning adult fish
Oregon's North Umpqua River is legendary for its summer steelhead fishery, and for the special fishing regulations that have helped sustain the unique character and history of this water. Now, for only the second time since Oregon began to regulate fishing on the North Umpqua, the summer steelhead fishery will be closed in 2023 due to poor returns of adult fish.  
I have been fishing the North Umpqua, both privately and as a guide, for 25 years. It's always excruciating to lose a famous steelhead fishery – but it's especially so for "The North"– one of the few streams where we still have a good steelhead angling that's not mostly or entirely reliant on hatchery fish.
The Oregon Department of Fish and Wildlife (ODFW) has made efforts to adapt its management of the North Umpqua to address some of the challenges here. One problem, however, is particularly troublesome: pHos (percentage of hatchery-origin spawners). For some years there have been too many hatchery spawners out of the total number of spawning fish to support recovery of the wild steelhead run. Wild Steelheaders United and our conservation allies have long urged the agency to stop stocking the North Umpqua with hatchery fish altogether.
In 2022, after the North Umpqua summer steelhead fishery was closed the previous year for the first time, the Oregon Fish and Wildlife Commission ordered ODFW to curtail the hatchery summer steelhead program. A subsequent legal challenge has essentially put that decision on hold, so as of now the hatchery program on the North Umpqua continues to operate.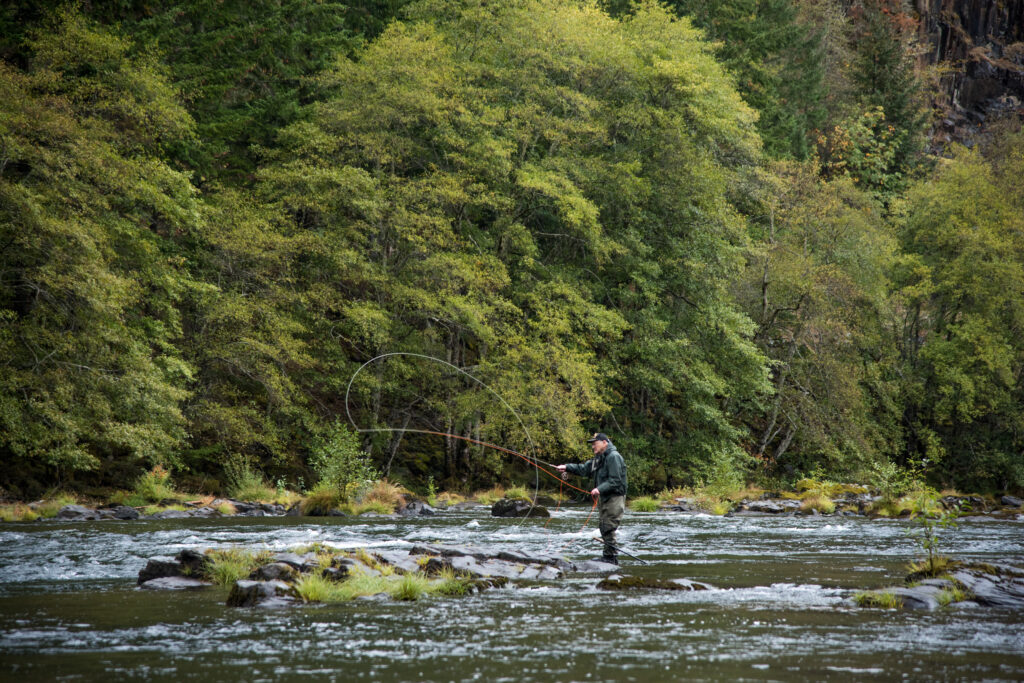 Wild Steelheaders United and Trout Unlimited support ODFW's closure of the North Umpqua for this year's summer steelhead season. It's a tough, but necessary measure when adult returns of wild steelhead are so far below minimum thresholds. But we could reduce the need for such drastic actions if ODFW were more adaptive in managing our precious few remaining waters that support wild steelhead runs – the cheapest, most ecologically sustainable way to conserve steelhead angling opportunity in the face of rapidly changing river and landscape conditions. 
ODFW's Coastal Management Plan (CMP), adopted in 2014, is intended to guide the agency's management of salmon and steelhead stocks on Oregon coastal waters. But our environment and weather patterns have changed dramatically over the past decade. The CMP and ODFW's abilities to manage wild stocks of steelhead simply haven't been nimble enough to handle the real-world results of hotter air temperatures, extended periods of drought, desiccating soils, spread of invasive species, and poor conditions in the marine environment that we're seeing more frequently nowadays. 
While the warming climate has created horrible conditions both in fresh water and the ocean for coldwater species like steelhead, it has simultaneously improved conditions for non-native species like largemouth bass, smallmouth bass and striped bass. The populations of these fishes have expanded dramatically in Oregon coastal streams, particularly in rivers in the southwest quadrant of the state like the Coquille and the Umpqua.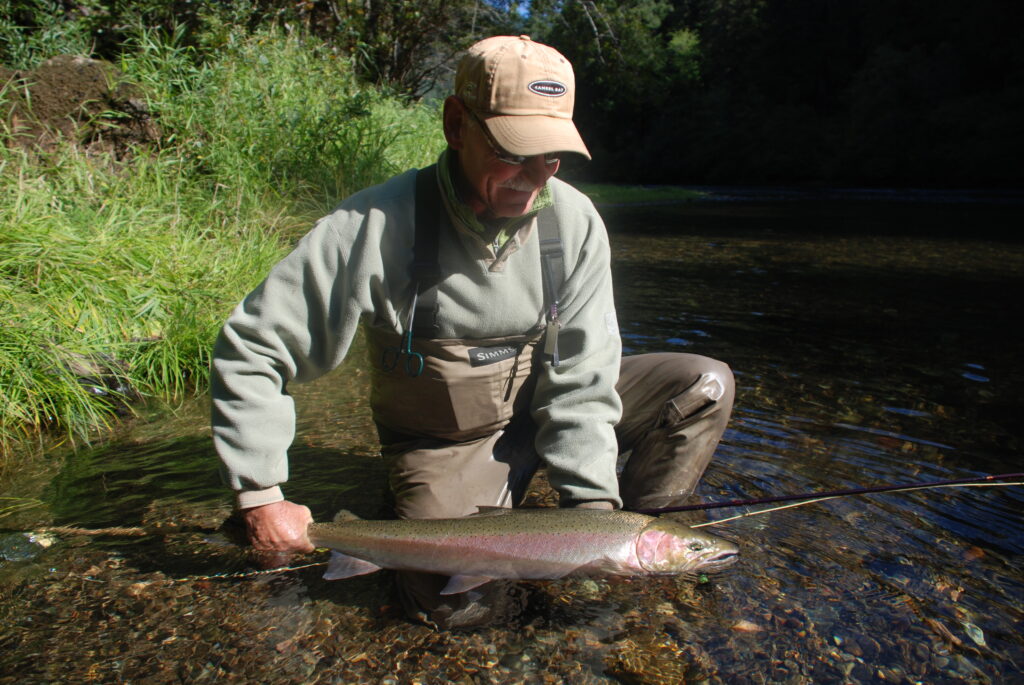 In the Coquille, fall Chinook salmon are literally fighting for their very existence, due in part to predation from illegally introduced smallmouth bass and stripers. ODFW and the Coquille Indian Tribe are in a race to save the fall chinook run here – abundant as recently as ten years ago — from extirpation.
Wild Steelheaders has supported a flexible and agile approach to managing salmon and steelhead in rivers like the Coquille (part of our "Portfolio Approach" as described here and here). For example, we publicly supported a proposed conservation hatchery to preserve the Coquille's fall Chinook population. We've also volunteered many hours in recent seasons doing snorkel surveys to determine abundance and habitat distribution of smallmouth bass in this river, while working side-by-side with ODFW staff in their electrofishing boats to catch and remove invasive bass. 
On the North Umpqua, we have opposed hatchery supplementation of summer steelhead populations. The North has better resisted the adverse effects of climate change than many other waters and still supports a run of wild summer steelhead. We have advocated for a management approach that prioritizes fixing the significant problem of pHos in this river. To that end, we have strongly supported at least a temporary (10-year) halt of the hatchery program on the Rock Creek tributary, to allow ODFW to better assess the condition of wild steelhead runs here and manage this stock, and this fishery, more adaptively. 
In 2022, we saw an uptick in adult wild summer steelhead in the North Umpqua, with just over 1,300 fish returning — barely above the "critical threshold" set in the CMP for this water, but trending in the right direction and allowing for a fishery. Many North Umpqua anglers still chose not to string a rod last summer because of the very low numbers, but at least local businesses dependent on the summer steelhead fishery got a bit of a reprieve after the disastrous returns of 2021 and the Covid pandemic.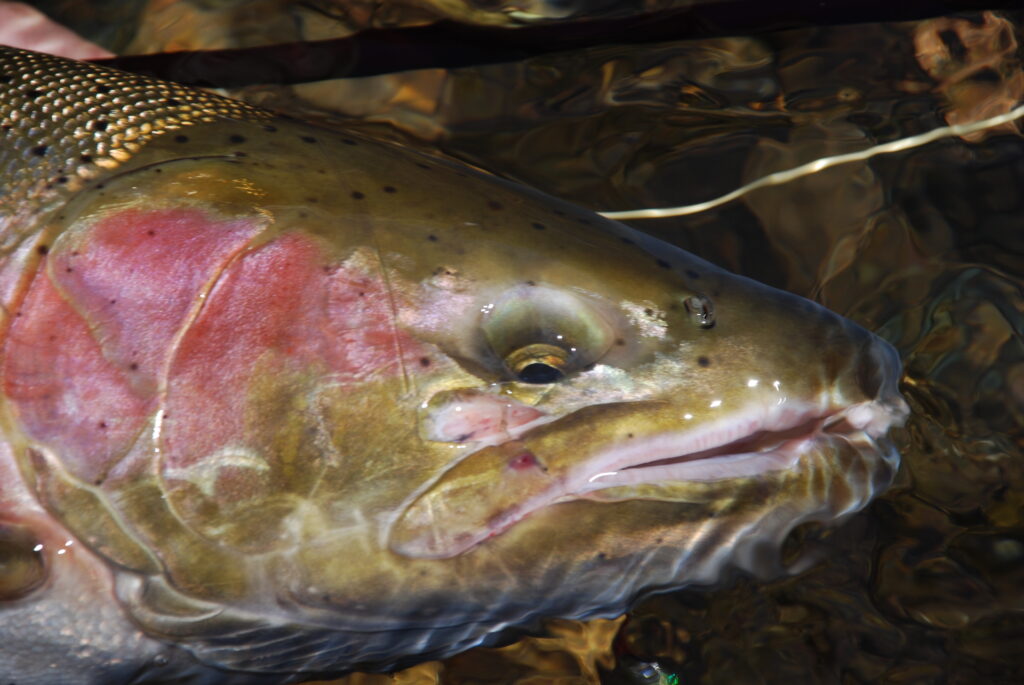 Now, as of late July 2023, with a run shaping up to be very similar to the 2021 returns, ODFW has been forced to close the North Umpqua to angling yet again. To be clear, we at Wild Steelheaders are grateful for ODFW doing the right thing for this year's summer steelhead run on the North Umpqua. Yet fishing closures, even temporary, should be the tool of last resort. We need to do more to improve conditions for wild fish in the North Umpqua.
Scary-low adult returns are a tough reminder that if we want to have wild steelhead in fishable numbers in legendary streams like the North Umpqua in the face of the changing climate and other pressures, we can't depend on outdated management strategies. We must rise to the challenge, and take a variety of actions across all anadromous waters to protect and restore wild steelhead. These include a commitment not to stock hatchery fish in the relatively few remaining streams with healthy and self-sustaining wild fish populations, changes in stocking practices in other waters to reduce adverse effects on wild fish, vigorous efforts to improve fish passage and reduce predation from non-native species, and restoring habitat degraded by past land practices and wildfire. We must also adapt angling regulations — and our own fishing practices — to reduce pressure and incidental harm to the iconic sportfish of the Pacific Northwest.
You can help Wild Steelheaders United continue to advocate strongly and effectively for North Umpqua River wild steelhead by going here and by staying tuned to our Instagram and Facebook, and blog and newsletter.