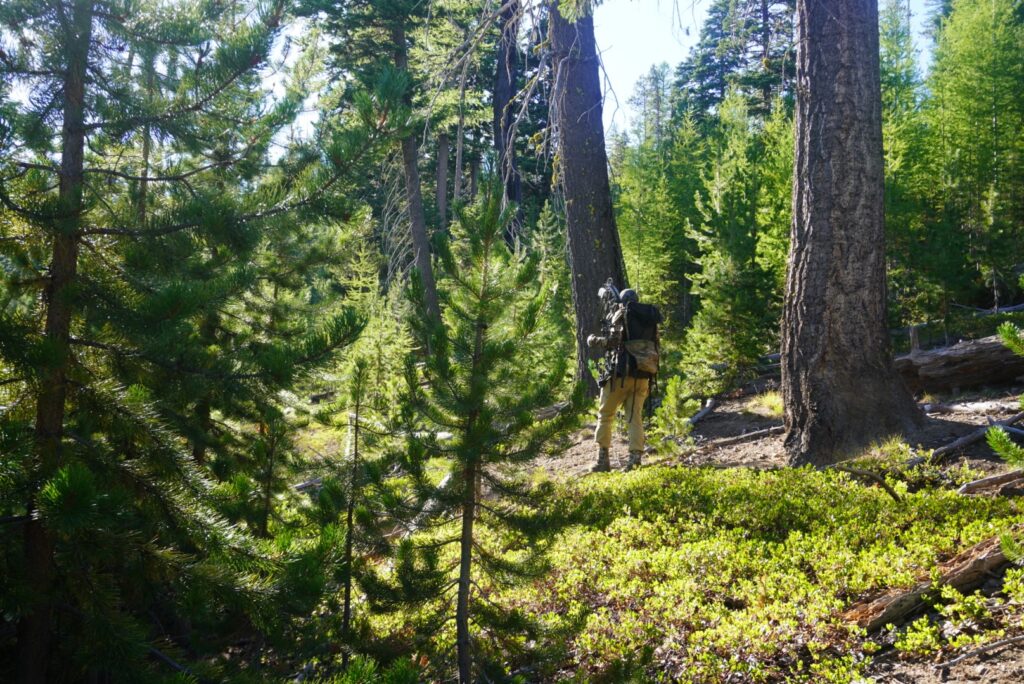 By Kyle Smith, Oregon Field Coordinator
September is a sacred month in our house. A transition from the dog days of summer to the crisp, cool mornings of fall.
Eleven months of anticipation for elk season, followed closely by deer, waterfowl, and upland seasons is finally here. As a teacher, my wife isn't always as enthusiastic about the coming of fall as I am, but in her infinite kindness, she still makes time for me to venture into the woods with the hope I return with a year's worth of organic, free-range elk meat for our family to enjoy.
Last week, I put the finishing touches on a month's worth of packing and repacking and loaded up my truck for a trip across the Cascades to hunt elk in a vast wilderness area in Oregon's Blue Mountains. With all the upheaval of the past year weighing heavily on my mind, a week in the elk woods was a welcome respite and time for my brain and my body to decompress and detox with still mountain air and cold mountain streams.
Given complexities of work and homelife schedules, my hunting partner and I were locked into the week before Labor Day for our trip this year. A full moon and forecasts in the mid-90s cast some doubt on our prospects but we remained hopeful we could find animals, or at least a fresh perspective on life if tags remained unpunched.
Soon after we left pavement and turned onto gravel, we spotted a sow black bear and her two cubs. With gorgeous color-phase fur in hues of dark red and cinnamon, our excitement peaked with only a few miles of bumpy gravel between us and our first-choice trailhead.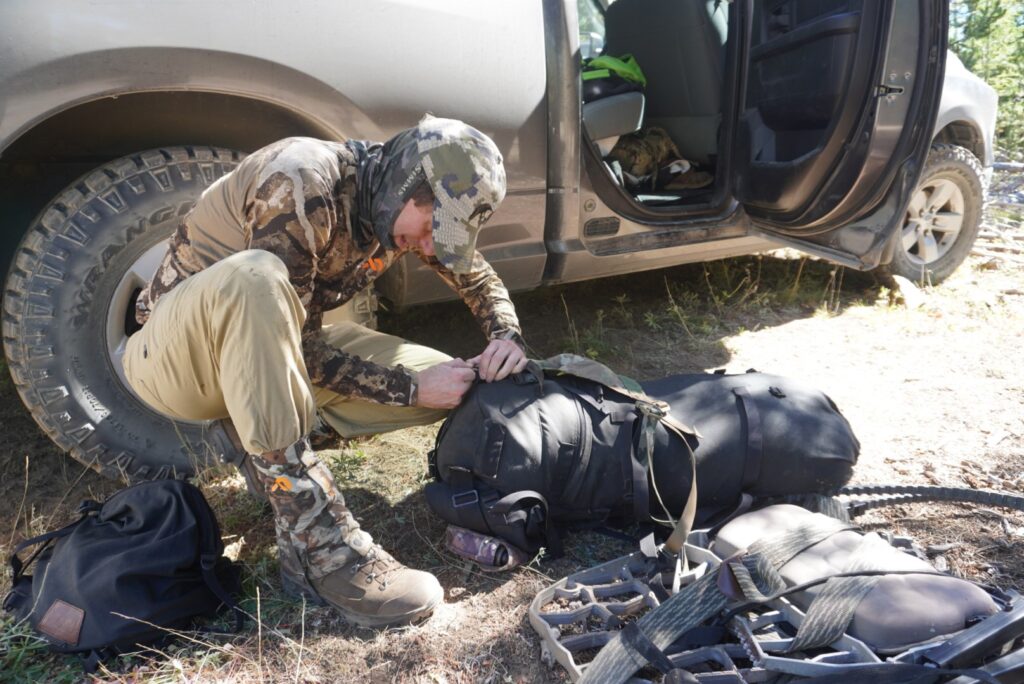 Arriving at our chosen basin, we donned heavy packs and made the three-mile uphill climb to our camp spot, on a dry, exposed ridge high above the surrounding expanse of blowdown and reprod (young trees that emerge follow a wildfire or are planted after clearcut logging). A wildfire decades prior had created ideal hunting conditions with open areas and fresh forage for deer and elk. But after our first night in the area, with little fresh sign of elk, it began to feel like conditions had shifted and the burn had turned the corner as early seral habitat and had become the kind of densely packed impenetrable reprod that poses serious issues for hunters and elk alike.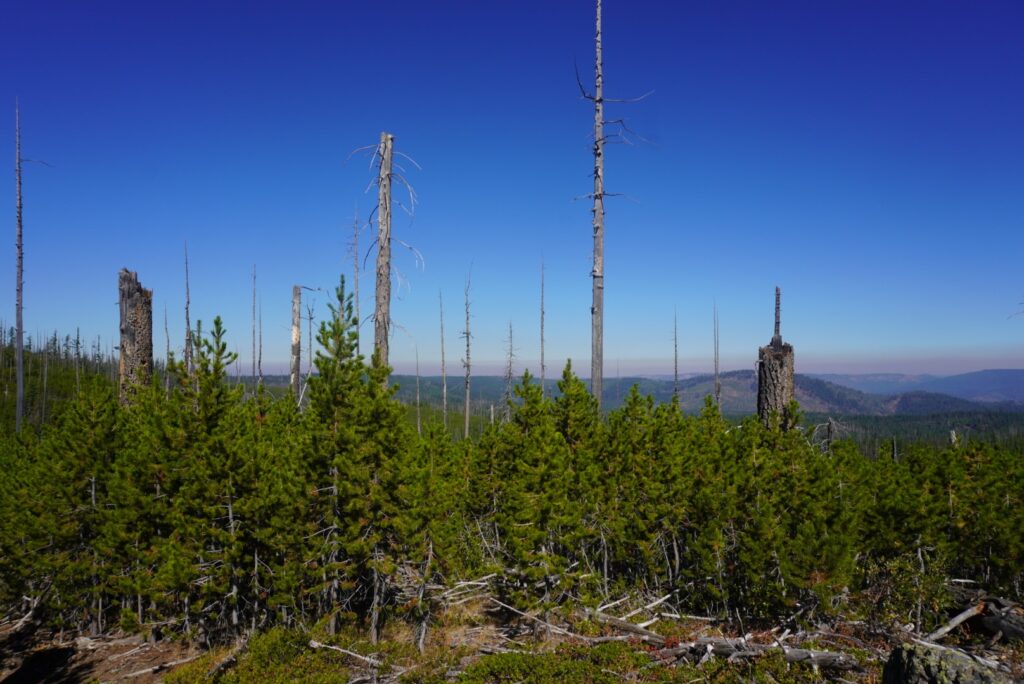 It also bears mentioning that our only source of water was a spring two miles away, necessitating daily trips to refill our hydration bladders that generated almost as much sweat as our two liter packs would hold. After three days getting slapped in the face with larch branches, battling constant dehydration, and having our shins bludgeoned while climbing over toppled lodgepole pine trunks, we made the decision to relocate to an area another friend had recommended a handful of miles down the road.
Our second camp, four miles from the trailhead, was more comfortable with mature stands of larch and lodgepole offering the opportunity to move around without the constant risk of a trip to the ER and a resulting eye patch. The creek flowing behind our camp offered not only some of the best tasting water I've had in recent memory, but also some incredibly beautiful 6-8" cutthroat and rainbow trout that offered a welcome distraction in the heat of the mid-day.
We both felt we'd found a slice of backcountry heaven.
Three more days hunting in this area produced some close encounters with elk, as well as some long sits on open meadows and peaceful backcountry creeks. After our initial suffering and misdirection, we'd found the solace and space to unwind that we'd hoped for. While no tags were punched, we headed home feeling fulfilled and ready to return to families and work renewed (while also plotting to sneak back out for another hunt later in the season).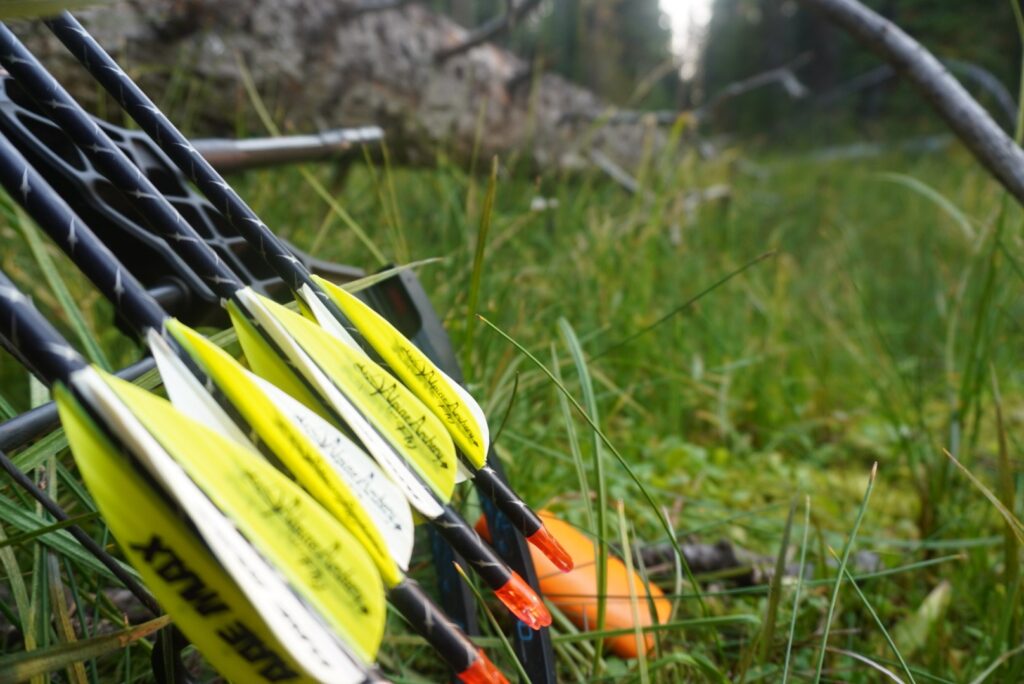 That all changed on the drive home.
Thick smoke and surreal orange light filled the skies as soon as we climbed out of our elk hunting grounds and pointed west towards home. Strong winds pushed my full-sized pickup back and forth across the lane as we climbed over the Cascades and descended into the Willamette Valley. Pulling into the driveway, we learned we'd barely made it over the mountains before fires had consumed towns up and down the Cascade Range and closed two of the main passes over the mountains. Our homes in Corvallis were safe from the encroaching fires, but over the next week, we'd learn of dozens of friends who'd lost all of their worldly possessions in a few short hours.
As of this writing, wildfire have consumed over 1,000,000 acres across Oregon. Countless homes have been lost and some of our most storied fishing grounds, including the North Santiam, McKenzie, and North Umpqua, have burned to the ground.
The loss, pain, and suffering is unimaginable. It will take decades for communities to rebuild and these unprecedented times will stick in our memory forever.
In addition, the ecological impacts as well as effects on coldwater fisheries could be profound. While native salmon, steelhead and trout have evolved to adapt to the low-intensity, slow-burning fires that were typical of many Western ecologies in the past, the mega-fires we have seen this summer in the West have burned extremely hot and rapidly, and have torched habitats both natural (streams) and man-made (hatcheries).
There are no words to express the sorrow I feel for the friends and families impacted by this fire season. Amidst all the heartbreak, my only comfort is the knowledge that fire is integral to healthy ecosystems and that the work we do at Trout Unlimited will only increase in importance as our world continues to shift and change in the face of climate change.
Through it all, public lands will continue to offer us a place to reflect, to heal, and to occasionally risk personal injury in pursuit of wild critters through the best and worst of times. We must continue to fight to protect, reconnect, restore, and sustain the places that are important to us, as those places are critical to our own mental and physical well-being and the health and safety of future generations.
If you'd like to offer help for communities impacted by wildfire in Oregon, this article from the Salem Statesman Journal has some great suggestions.
Frank and Jeannie Moore lost their cabin on the North Umpqua in the path of the Archie Creek Fire (linked article was written before loss of their cabin was confirmed). No surprise to anyone who knows the Moores, they remain upbeat and as close as a couple can be. If you'd like to help support families impacted by the Archie Creek Fire, you can make a donation to the Glide Revitalization Fund, and if you donate $50 or more, The North Umpqua Foundation will send you a copy of Dan Callaghan's iconic "North Umpqua" photography book (just send a screenshot of your donation to thenorthumpquafoundation@gmail.com to secure your copy).
The McKenzie River and communities along it were highly impacted by the Holiday Farm Fire. Donations can be made through United Way of the Mid-Willamette Valley and information on volunteering your time can be found through the McKenzie River Trust's webpage.
Our good friend, Josh Mills of Wild Steelhead Coalition fame, has organized a social media fundraiser he's calling #fliesforfirerelief. You can bid on items directly on the donor's social media profiles, and winning bids will be paid to the charity of the donor's choice. I'm donating a guided day on Oregon's Willamette River swinging for summer steelhead during the 2021 (July-October season), and there's tons of other great donations to be bid on including an extremely limited edition Abel reel, rods from the personal collection of our buddy Randy Stetzer, and more flies and guided trips than you can shake a stick at.