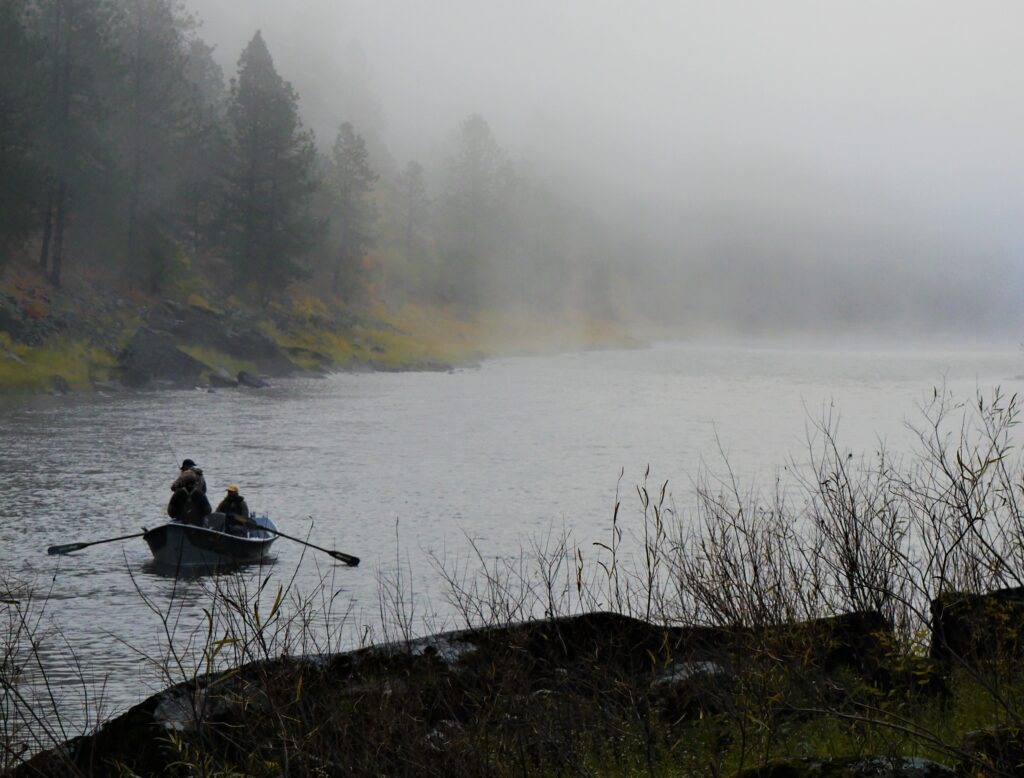 Fisheries management is a tricky science. Part biology, part sociology, part politics and occasionally economics — when it works, it simply works and when it doesn't, well, it just doesn't. Balancing these pillars of management is a complicated task for protecting and sustaining any natural resource.
Recently, we've seen resource managers in the Pacific Northwest utilize another "tool" in fishery management: convening of work groups and collaboratives to integrate a diversity of public perspectives into the process. The jury is still out on whether this tool actually contributes to better management decisions and actions (which often require hard choices and necessary trade-offs when faced with factors such as declining returns and wild fish impacts).
In late 2020, the Idaho Department of Fish and Game brought this tool to the process of updating fisheries management in the Clearwater River. The Clearwater is one of the most famous salmon and steelhead waters in the West, a major tributary to the Snake River and part of the vast network of Columbia River headwaters to which access for fish is blocked by a total of eight dams.
The Snake River watershed provides most of the best remaining salmonid spawning and rearing habitat in the Columbia River system.
IDFG's Clearwater Fisheries Working Group was tasked with providing recommendations to the agency that addressed both complaints from the angling community and mitigation of impacts on fish and angling opportunity due to overlaps of the fall chinook and steelhead fisheries.
This 13-member Clearwater workgroup included recreational fly anglers, recreational gear anglers, fly fishing guides, gear fishing guides, wade fisherman and boat fishermen, with equal representation of fall chinook, steelhead or both-species anglers, in addition to representatives from the conservation and tourism sectors.
As the North Idaho Field Coordinator for Trout Unlimited and one of the staff supporting Wild Steelheaders United, I represented the conservation community on the Clearwater workgroup.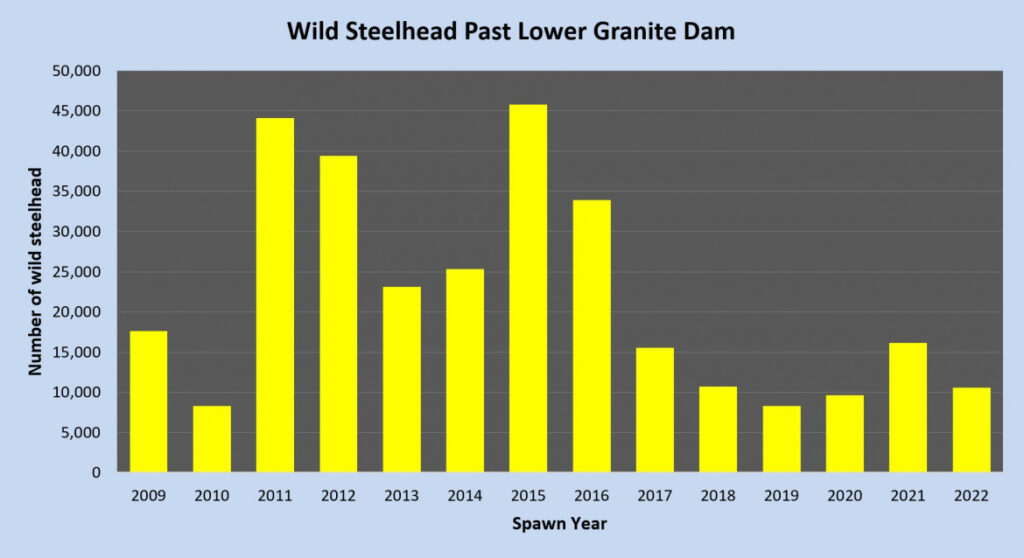 The workgroup reviewed available data on run timing, PIT tags (passive integrated transponder), catch rates, impact rates and angler effort by gear types, along with creel survey data that examined angler satisfaction. The group developed proposals for the respective fishery seasons by consensus, with a clear head tilt to collaboration and compromise.
Once season proposals were fleshed out IDFG reviewed and presented them to the seven members of the Idaho Fish and Game Commission. The Commission approved submitting the two proposals for public scoping and comment.
Public opinion was collected via a survey distributed to 35,000 individuals. In all, 2,264 responses were received, with a majority favoring Proposal #2 (which includes higher harvest rates for steelhead (hatchery fish only) and longer seasons for harvest).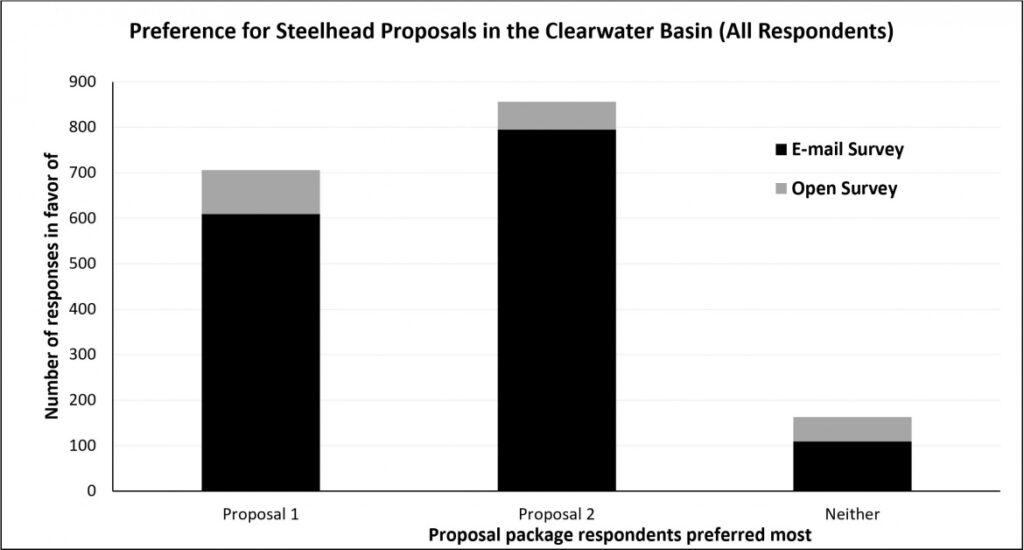 Once IDFG had reviewed and stratified this public feedback, Proposal #2 was presented to the Commission for adoption as regulatory policy in November. The Commission accepted Proposal #2 and a new structure for fall chinook and steelhead seasons on the Clearwater River was approved.
What this means for anglers on the Clearwater is a slight change in season structure, specifically for steelhead, with new opportunities for anglers of all gear types. The new seasons represent a balanced approach to opportunity for those interested in harvest while fish are bright and in the best shape for table fare, while providing a new catch and release season during mid-October to early November.
The early take season coincides with the arrival of A-run summer steelhead that, further upstream, make their way to the Grande Ronde, Salmon, and Snake River tributaries.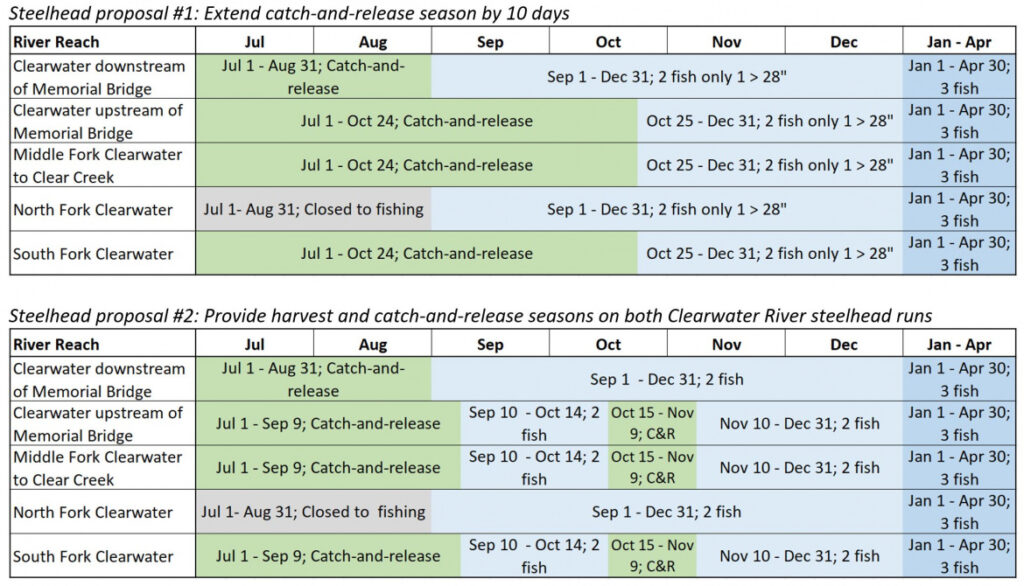 The late catch and release season coincides with the period when, historically, B-run steelhead arrived in the Clearwater system. This season is characterized by reduced flows and pleasant weather. Some worry this could become one of the most popular catch and release fisheries, as it provides more opportunity for anglers to connect with the out-sized adult steelhead for which the Clearwater is legendary.
Change can be difficult, especially when anglers have gotten accustomed to certain dates during the year for the opening and closure of seasons. On the Clearwater, fishing seasons have been essentially unchanged for several decades. But it's important that fishery management adapt to current conditions. With more fishing demand than ever, more effective fishing tackle and techniques, and population declines in many watersheds, the Clearwater needed an adjustment in management. Time will tell if the new seasons work as intended, for both anglers and fish.
Note: all harvest of steelhead in Idaho rivers is restricted to hatchery produced fish, identified by an adipose fin clip. This policy was adopted in 1983 to protect wild Snake River steelhead.