We're rolling on with Elwha week with more content on the people that have helped make the Elwha the Phoenix Rising from the Ashes. Today, we have the next post in our Meet the Team series featuring our Science Director for the Wild Steelhead Initiative, John McMillan. You may already know John from his Instagram account @rainforest_steel, or his Barbless Podcast. John lives on the OP and we're pretty sure he has Elwha River water running in his veins.
Learn more about John below, and make sure to join us Wednesday, April 15, at 4 p.m. PT on Trout Unlimited's Instagram for a live interview with John McMillan, which is part of our #ElwhaWeek Live series. Additionally, on Friday, April 17 at 5 p.m. PT, we will release our new film, Rising From The Ashes, which details the amazing recovery of wild summer steelhead on Washington's Elwha River. More information on the film and the rest of the week's events can be found here.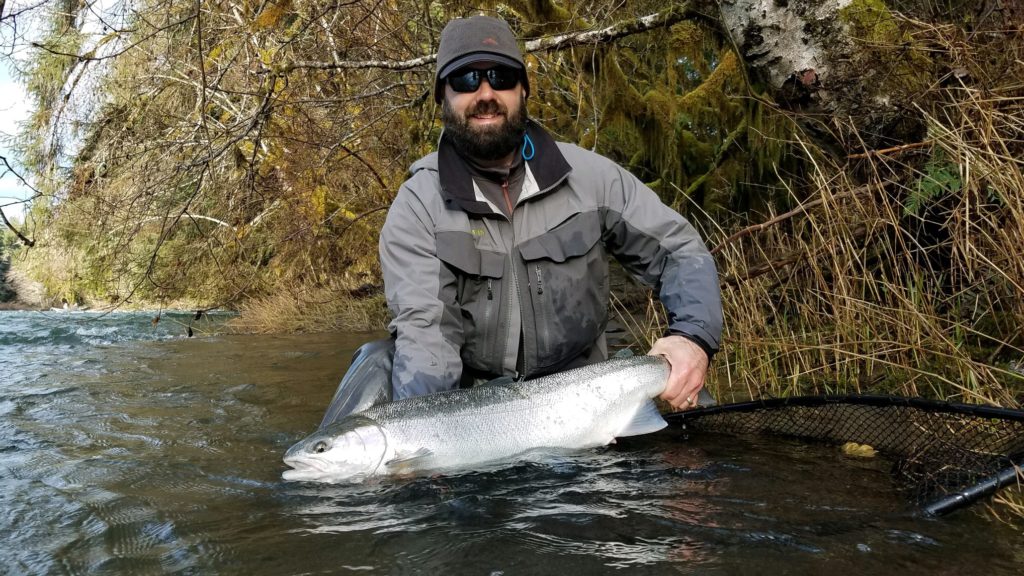 Home town:
Joyce, WA
Home waters:
All rivers on the Olympic Peninsula
Favorite way to catch steelhead (gear, fly, etc.)?
Swung fly
Boat or hike? Why?
Hike. I enjoy exercise first of all. But, I also don't enjoy getting caught in the "boat train" over the course of a day, in which case I am forced to fish behind a bunch of people that have recently covered the prime water. Instead, I prefer to fish below the boats in the morning and above them later. The best way to do that is by walking.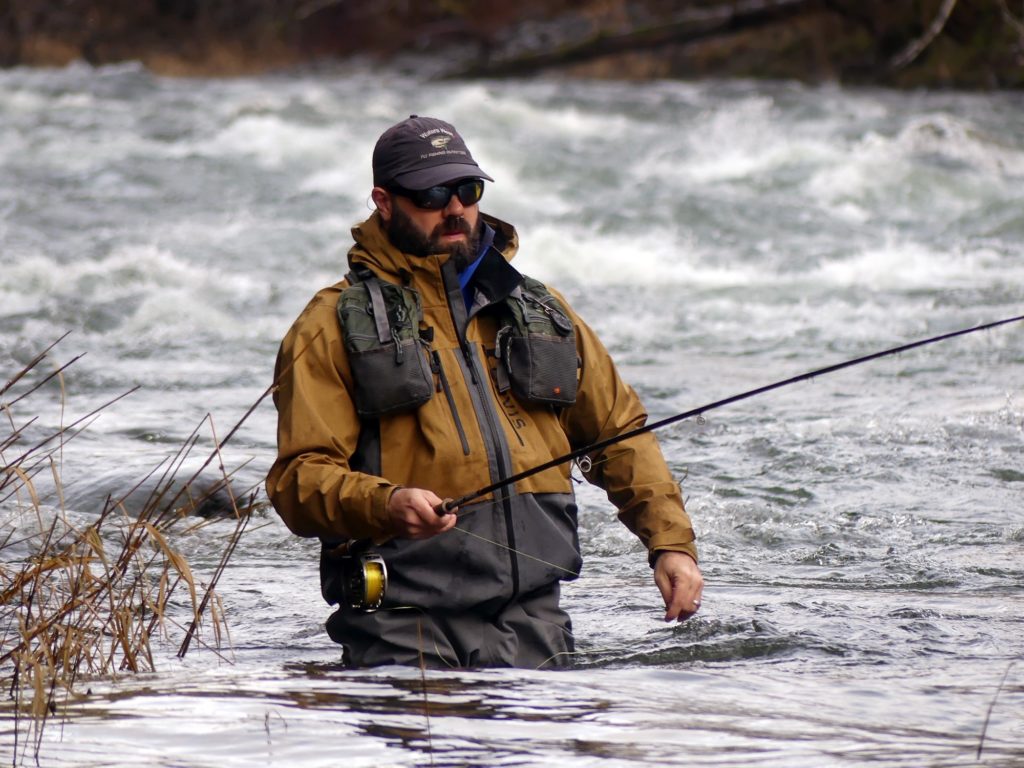 Story around the first steelhead you ever caught?
I was five years old. I was fishing with my dad. I was too short to wade and too small to cast very far, so he cast the line and then held me in his arms while I held the rod. I managed to set the hook and then he let me play the steelhead. I vividly remember watching the steelhead rise several times while my dad was fishing. I was tremendously excited at the prospect of landing a steelhead by myself. I eventually landed a 13lb steelhead and promptly killed it because it was a hatchery fish. I was beaming, as evidenced by the photos of me with the fish. It was a day I will never forget.
Most memorable steelhead camp?
I don't really go to steelhead camp. I fish alone 99% of the time. In fact, I have never camped with more than one person while steelhead fishing, and that has only happened a handful of times with close friends. So, I don't really have a favorite or most memorable camp experience. But I do have a most "memorable" steelhead trip. That was in 1984 when I was fourteen years old. My father and our family went camping on a relatively unknown steelhead river in British Columbia. The first morning I was really expectant because my father had already caught a few steelhead the evening prior and was talking about how many steelhead were in the camp pool. I didn't realize it at the time, but those were some of the best ocean conditions that wild steelhead have encountered, so there were more steelhead than I knew what to do with. I managed to land several steelhead, all on dead drifted dry flies. I was utterly downtrodden when we had to pick up camp and go home a week and a half later. I begged my mom and dad to stay an extra week. Alas, it was not meant to be, and the whole way home all I could do was dream about the next trip to Canada.
What's your favorite thing about wild steelhead?
That I can fish for them almost every day of the year. No other anadromous species provides that type of opportunity.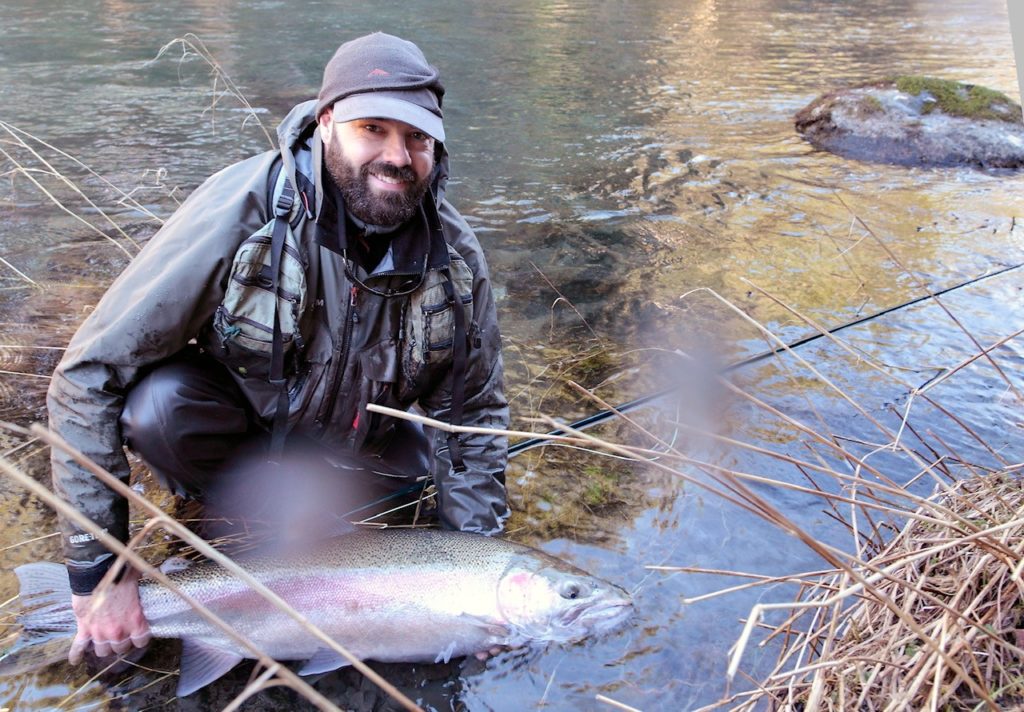 Other hobbies or passions besides wild steelhead?
Underwater photography and snorkeling.
Tell us about your career before joining Wild Steelheaders
I worked professionally for the Hoh tribe, Wild Salmon Center, and NOAA on the Elwha dam removal project. All the jobs provided critical experience, but the Elwha work was the most fun because I had the opportunity to work in a river before and after dam removal.
When you think of the future of wild steelhead, what gives you a sense of hope? What makes you concerned or worried?
There isn't much outward reason for hope right now given poor wild steelhead returns across much of the West Coast. However, large fluctuations in abundance associated with big swings in ocean productivity are not uncommon. Rather than be concerned at that scale, I find hope at smaller scales, like the Elwha River. Since dam removal the abundance of winter and summer steelhead has dramatically increased and for the first time in my life, I wasn't born a generation too late. I will have an opportunity to fish for steelhead in the Elwha after the dams come out. The resurgence of those fish and the promise of dam removal gives me hope for the future. I am also hopeful because steelhead are remarkably resilient and have the most diverse suite of life histories of any salmonid. This should help them persist better than other species with fewer life histories. Nonetheless, I remain concerned. The overall level of depletion is great and widely spread. In particular, I am concerned about habitat conditions and the over-reliance on large-scale releases of hatchery steelhead. Steelhead need high quality habitat to rear and spawn. It is fundamental to their success. On the other hand, hatchery fish exert a range of negative effects on wild steelhead, ranging from competition and predation to interbreeding and dilution of genetic diversity. Steelhead need to be as diverse as possible to respond and keep pace with climate change and its effects on their habitat. Because hatcheries erode that diversity, I think it is time to re-evaluate our hatchery practices for steelhead and begin to identify the places with the best chance of sustaining wild steelhead – places with high quality habitat and abundant and diverse populations of wild steelhead – and ensure that those rivers are managed to maximize conservation of wild steelhead. In contrast, I am fine with hatcheries in other rivers where habitat is highly degraded and the wild steelhead are so depleted they are unlikely to recover. In this context, I support a Portfolio of hatchery and wild steelhead rivers. Achieving that is a big challenge, but is something I feel is necessary if we want to ensure the next generation of anglers will have opportunities to fish for wild steelhead.
Anything else you want Wild Steelheaders United and Trout Unlimited readers to know?
Keep the faith. Conservation is a long game. The best way to success is to become informed about your home waters and then get involved, either through blood and sweat or through providing funding to groups that are doing that type of work. If we want a future with wild steelhead, it depends on all of us getting involved.