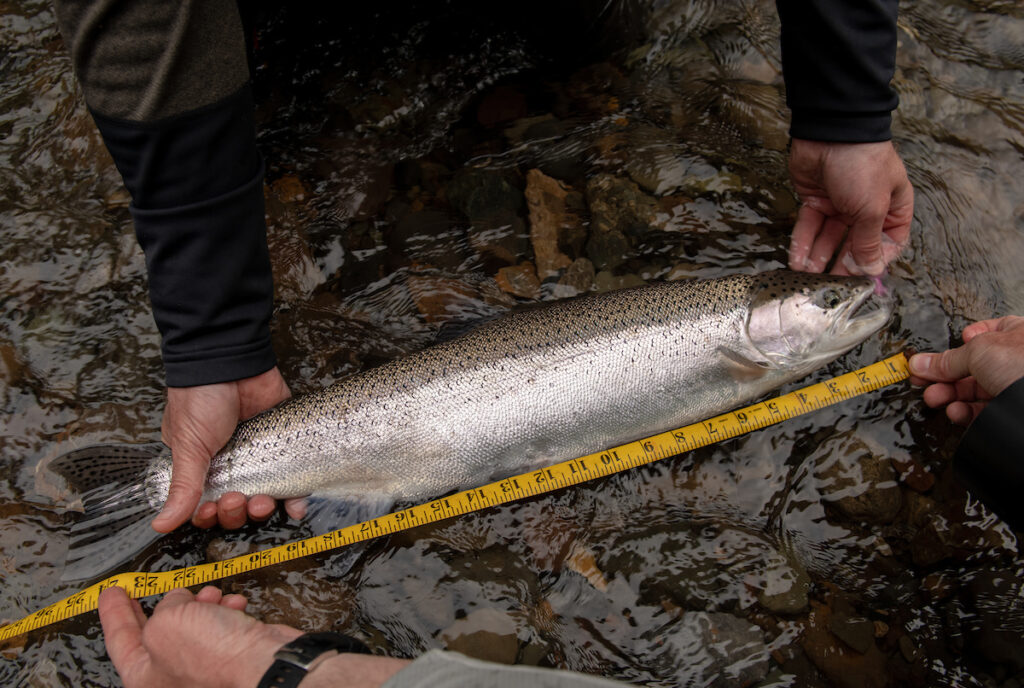 In Southeast Alaska, there are over 5,000 anadromous watersheds. Of that, only 322 are recognized as supporting annual runs of steelhead. The "officially recognized" part is key, as this means inclusion in the ADF&G Anadromous Waters Catalog (AWC). But we believe the real number is probably twice that, meaning hundreds of streams don't receive the conservation measures they deserve.
 
​If a species isn't included in the AWC for a particular water body, there are no protections afforded that species, and therein lies the issue: to conserve steelhead and their habitat in a water body not listed as supporting them in the AWC, proof of their existence needed to be carefully and accurately documented. 
Wild Steelheaders United is working to increase the number of officially recognized anadromous streams by using  community science – going to select Tongass National Forest watersheds and surveying the area for steelhead. 
Join us next week on Thursday, October 22 for the premier of our new film, Anadromous Waters, and learn more about what Wild Steelheaders United is doing to help conserve these critical Alaskan steelhead populations.
INSTAGRAM LIVE: On Thursday at 3:00pm PST, we will be going live before the film premier on Trout Unlimited's Instagram channel to learn more about the vision for finding undocumented wild steelhead streams.

If you've never watched an Instagram live event before, we are hosting the events in partnership with the Trout Unlimited page. Navigate to the @troutunlimited account using the search magnifying glass icon. At the top left of the profile, click the circle image with the logo. It will prompt you to select, "View Story" or "Watch Live Video" The "live" conversation will remain posted for 24 hours if you miss it. But if you join during the conversation, you can participate by asking questions or leaving comments in the box at the bottom of your screen.

FILM PREMIER: Join us Thursday, October 22 at 4:00 pm PST on Trout Unlimited's YouTube channel as we release our new film, ANADROMOUS WATERS, by Josh Duplechian from Trout Unlimited. Set a reminder on YouTube, so you do not forget!