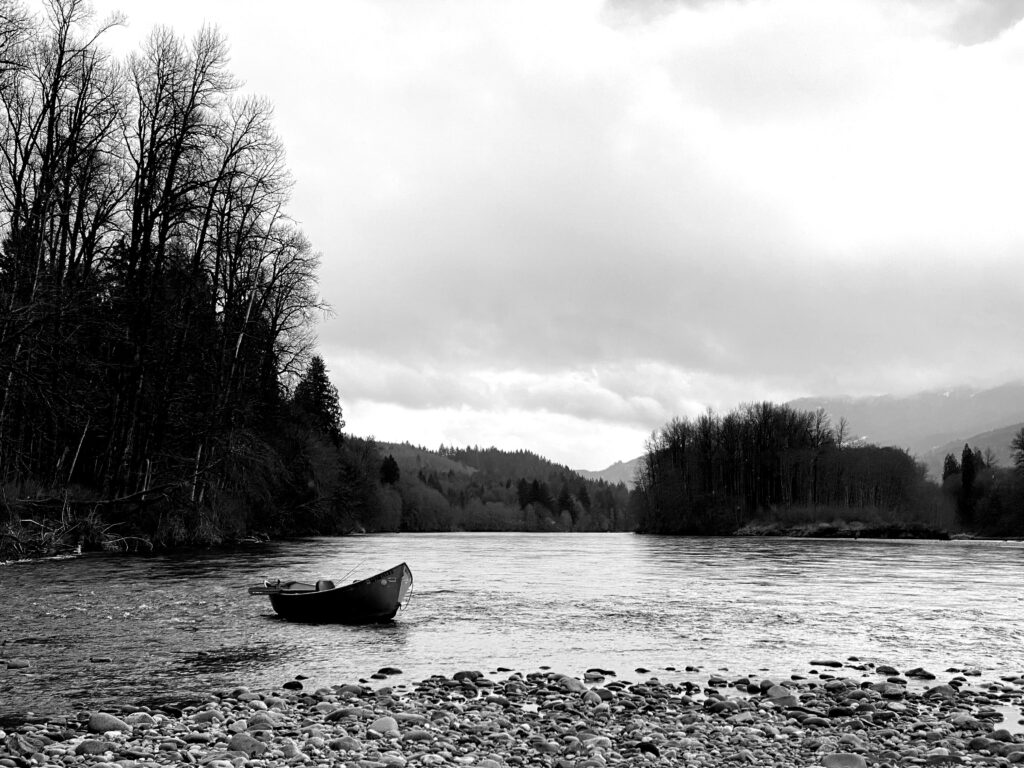 By Bridget Moran, North Sound Trout Unlimited
In mid-October, Outside Magazine published an essay that I wrote about the declines in Columbia River steelhead populations.
In it, I wrote about this year's horrendous return numbers, the ways in which state fish and wildlife agencies were handling (or not handling) the issue, and my choice as an angler to not target steelhead this year because I just couldn't, in good conscience, pile on to the mounting pressure that these fish continue to face.
The response was overwhelmingly positive: everyone from individual anglers, guides, and some industry brands seemed to relate to that painstaking decision not to target steelhead in the Columbia and Snake systems any longer. I was thrilled that a national publication—someone outside of the regional media echo chamber—recognized the severity of the situation and wanted to give it some air time.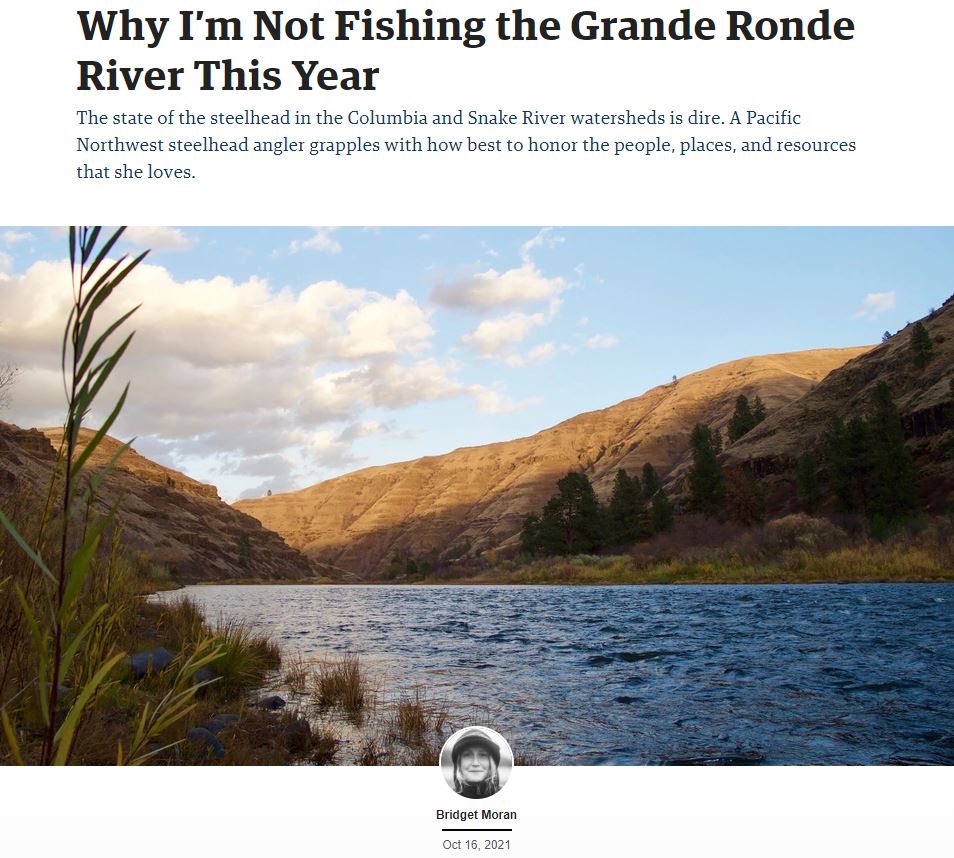 The harrowing realization is that I could have written that essay about nearly any steelhead population along the West Coast. The reader could easily replace "Columbia and Snake" with "Olympic Peninsula," "Puget Sound," or "Skeena," and the story would be the same: things really suck for steelhead right now.
Just last week, the Washington Department of Fish and Wildlife hosted the second in a series of town hall-style meetings to discuss the upcoming coastal steelhead season on Washington's Olympic Peninsula. Despite poor run forecasts, several anglers voiced their desire to have a season, some even suggesting fewer restrictions than the previous year. (More on that here).
It reminded me of a pack of street dogs fighting for the last scrap of food—the desperation palpable.
A few weeks after the Outside piece went live, the Wild Steelhead Coalition (WSC) published its Now or Never: a compelling assessment of the current state of wild steelhead, the factors contributing to declines and limiting recovery, and a rallying cry for steelheaders to do more than simply extract from the resource.
Both my essay in Outside and the WSC's Now or Never are clearly targeted at sport anglers. I've heard a few fellow anglers grumble in response: 'Why are we being expected to make such sacrifices? Why are we the ones being held responsible?'
The short answer is: because we are responsible. The cumulative effects of recreational angling put pressure on fish. The sport fishing industry has profited from and exploited steelhead for decades. The number of anglers continues to grow, as does money spent on guides, boats, waders, and rods—all while steelhead populations slide deeper into Endangered Species Act listings.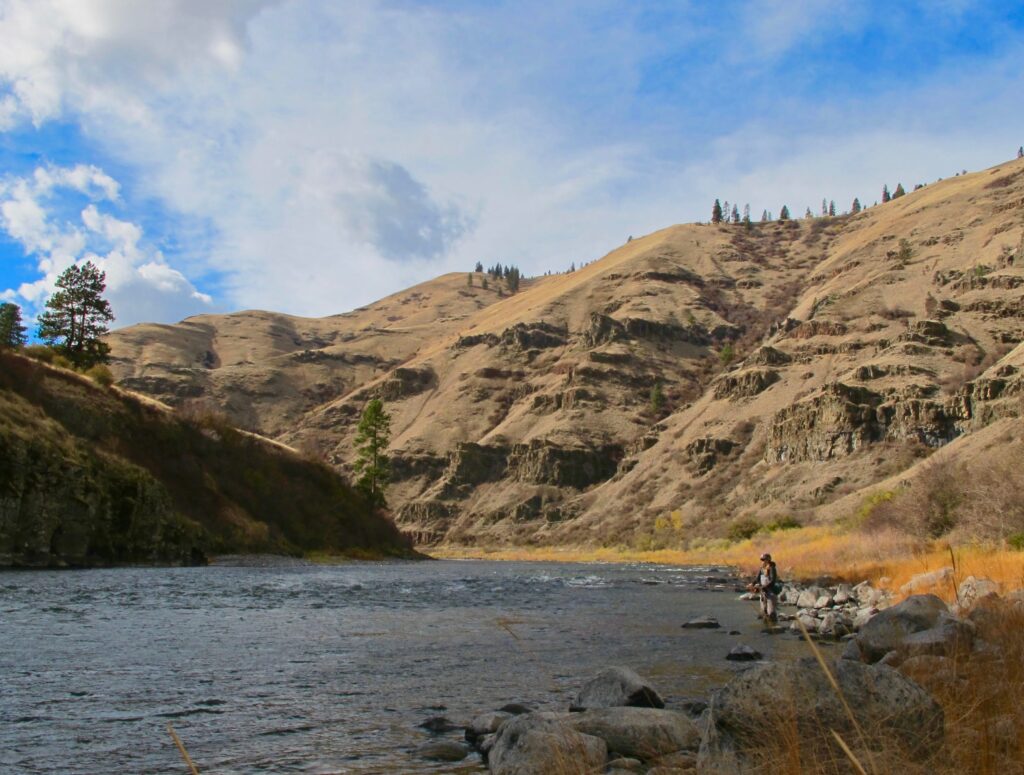 But while the sport fishing industry has certainly added pressure, it has also been a fruitful source of stewardship. The recreational angling community has pumped out some of the most compelling, inventive, and impassioned conservationists ever seen. Sport anglers have a unique connection to these places and these populations, and with that comes a unique drive to protect the resource.
We are often the first ones on the water, and if we truly value these fish for what they are, we should be the first to do what is necessary to bring them back.
We could spend the next few decades pointing fingers and feeling aggrieved. We could argue endlessly over who is most at fault and who should be paying the biggest price . But that won't get us anywhere but further from the solution.
So the question lingers: what are you doing to show up for steelhead? I know a few folks who have elected not to target them until populations rebound. I've met a few guides who have quietly cancelled their seasons. A few of my friends write a lot of letters and make a lot of phone calls to their representatives and natural resource agencies––some even use their social media platforms to influence other people to do the same.
This is the kind of stuff I respect, and I grow more and more disillusioned by apathetic anglers who can't seem to muster up an ounce of concern for these clearly desolate populations.
We need to move away from centering ourselves on this issue. Steelheading is no longer about anglers or our own self-interests, if it ever was. Now, it's about recovering wild steelhead.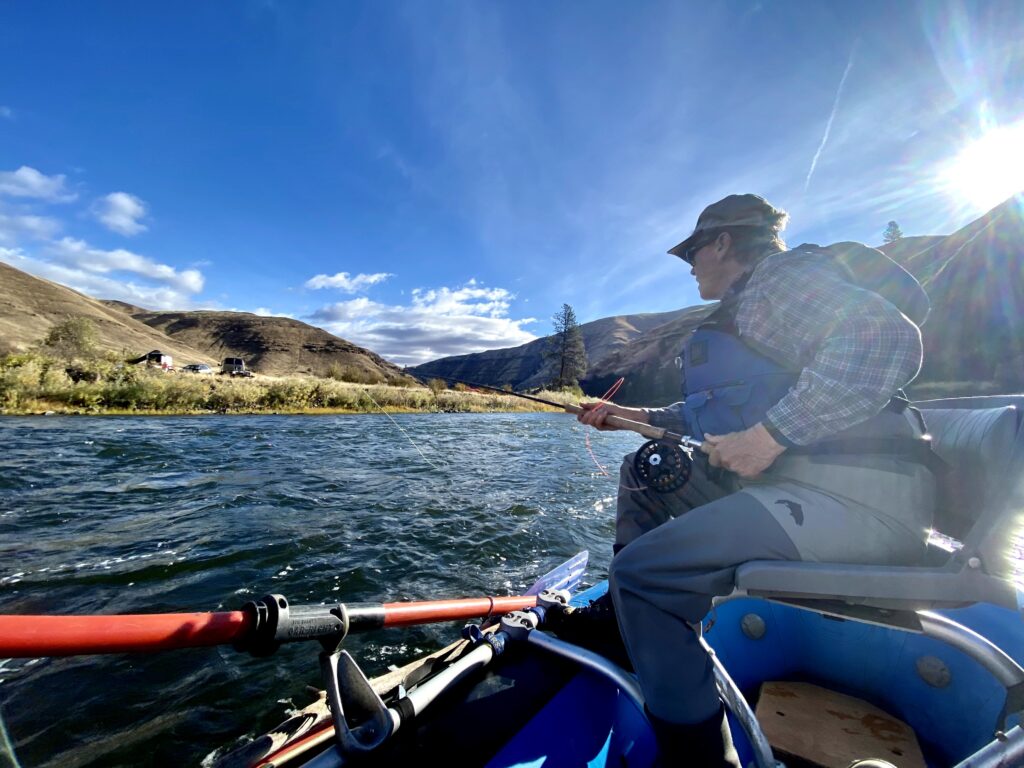 It's time to heed the alarm bells. Channel all of the energy and tenacity that you spend chasing steelhead into saving them. Go to public meetings. Get in the habit of sending an email (or two) every week. Participate in the action alerts that social media serves you on an almost weekly basis (many coming from Wild Steelheaders United). Volunteer with or donate to organizations working to improve habitat conditions for wild steelhead by removing fish passage barriers, or lobbying for better fishery management and restoration funding.
Most importantly, bring your friends along with you. There is great power in an active community of advocates. It really is now or never for wild steelhead.
Bridget Moran works for American Rivers in the Puget Sound and Columbia River basin. A lifelong Puget Sound angler, she currently lives in Bellingham, WA, and her inability to say no has earned her the presidency at North Sound Trout Unlimited. More of her writing can be found in The Flyfish Journal, Dun Magazine, and Moldy Chum.
Learn more about North Sound Trout Unlimited, Bridget's chapter in Washington here.
If you believe in comebacks and want to support Wild Steelheaders United efforts for wild steelhead, sign our credo or consider a donation.