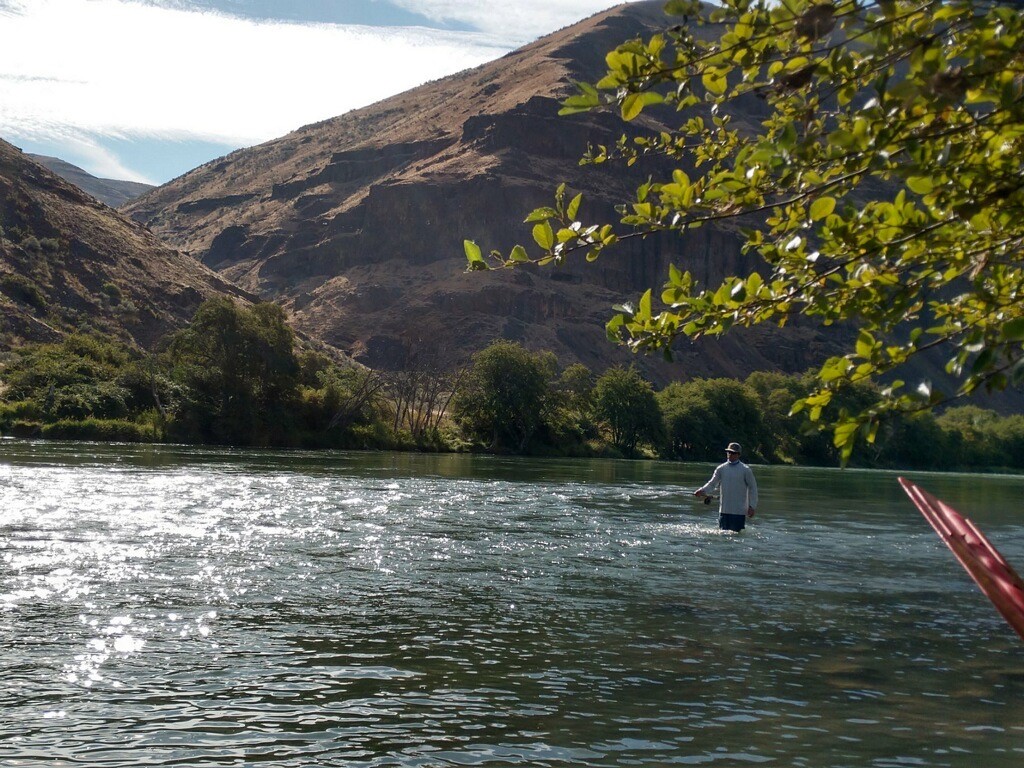 Last month the Oregon Department of Fish and Wildlife announced that the Deschutes River will be closed to fishing for steelhead, salmon and bass for parts of the summer to protect the river's seriously at-risk summer steelhead population.
The closures follow the Deschutes River steelhead framework presented by the department earlier this spring, when ODFW forecast very low summer steelhead returns.
The closures apply to steelhead, bass, Coho and Chinook, with closures for steelhead and bass beginning June 1, and closures for both species of salmon beginning August 1. The Deschutes will, however, remain open to trout fishing.
ODFW will conduct in-season run evaluations beginning on July 1, and the Deschutes steelhead fishery may reopen in 2022 depending on wild fish returns at Bonneville Dam.
Fishing closures on the Deschutes are necessary, according to the department, because "last year's upriver steelhead run to Bonneville Dam on the Columbia River was the lowest since records began in 1938, resulting in the first steelhead fishing closure on the Deschutes since 1978. Encounter rates from sport anglers that catch and release wild summer steelhead are typically high in mid-Columbia tributaries like the Deschutes, where fish stage before migrating to spawning areas throughout the Deschutes and Columbia Basin."  
The closures include:
Steelhead and bass fishing from June 1-Aug. 15, from the mouth at the west bound I-84 Bridge upstream to Pelton Dam.
Chinook salmon fishing from Aug. 1-15, from the mouth at the west bound I-84 Bridge upstream to upper railroad trestle (approximately 3 miles downstream from Sherars Falls).
Coho salmon fishing from Aug. 1-15, from the mouth at the west bound I-84 Bridge upstream to upper railroad trestle (approximately 3 miles downstream from Sherars Falls) and from Sherars Falls upstream to Pelton Dam.
Typically, the hatchery steelhead fishery is open all year and the Chinook and Coho seasons start August 1st and close on October 31st and December 31st respectively.
While there is a high likelihood salmon anglers will encounter steelhead, the same is not true for trout fishing, which is why the Deschutes trout fishery will not be closed this summer as well.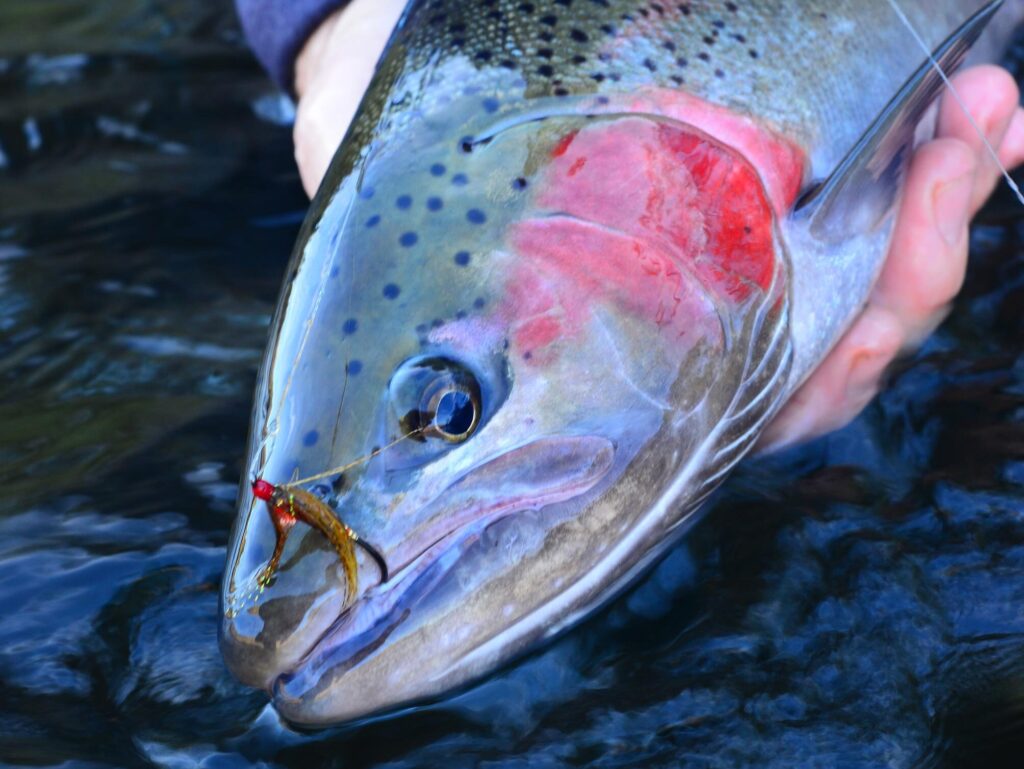 How to minimize encounters with steelhead while trout fishing
use light tippet and barbless hooks
avoid egg patterns, steelhead flies or flies with chartreuse, pink or orange colors
If gear fishing, use trout-size spinners and avoid treble hooks
If you do hook a steelhead this summer while trout fishing, break the fish off rather than trying to fight the fish using light tippet. If the fish does not break off or you are unable to break the line yourself, land the fish as quickly as possible, remove the hook with forceps, release it without lifting it out of the water, and do not use tailing gloves.
Impacts of closures
Given the very poor steelhead returns to the Deschutes last year and the even grimmer outlook for this season, Wild Steelheaders United and Trout Unlimited strongly support ODFW's science-based decision to temporarily close steelhead, salmon and bass fishing on the Lower Deschutes. The Deschutes is one of the most important – and historically productive – Columbia River tributaries for steelhead, and these closures provide a reprieve for few fish able to make it this far to spawn or seek coldwater refuge. 
However, there is no question that these closures will be very hard on guides, outfitters, and shops that serve the Deschutes fishing community. We understand the frustration of guides, outfitters, and anglers in this fishery about apparent inconsistencies in management (other steelhead fisheries will remain open during this summer (such as mainstem Columbia).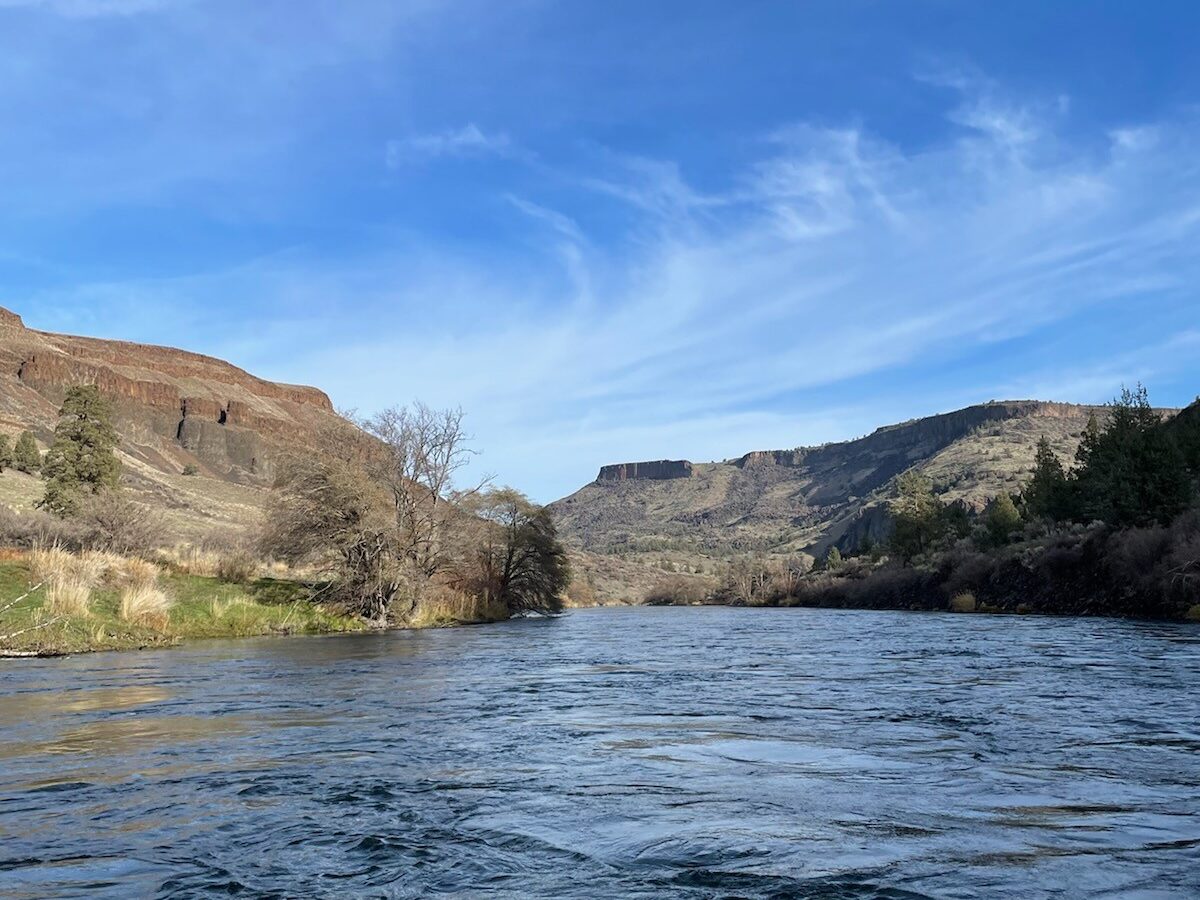 How did we end up here?
There are multiple factors contributing to the low steelhead returns last year and the poor forecast for this year. As climate change continues to create sub-optimal conditions for steelhead, the hydropower system, predation, hatcheries, commercial fishing, and other fishing pressures also depress populations of wild steelhead.
(Ocean conditions also play a significant role in returns of wild steelhead. ODFW says ocean conditions have improved since 2014; however, the effects of these improvements will not be reflected in returns for several years.)
Right now, every wild steelhead that makes it back to spawning grounds in the Deschutes counts. Fishing pressure is just one piece of the puzzle, but unlike climate change and ocean conditions, anglers have control over this factor. Even catch and release angling – with an ODFW-estimated mortality of 5% – could be the straw that breaks the camel's back when adult returns are this low.
If we want to have durable, self-sustaining runs of wild steelhead in the future, we must be extra conservative when these fish are most vulnerable. By giving these fish a break in hard times like this, we are helping to ensure as many fish as possible return to spawning gravel – and making a better future possible, for both steelhead and the fishing community.
To learn more about ODFW's management framework for steelhead on the Deschutes, check out this presentation by agency staff (between the 40:48 – 1:06:43 marks).
Stay tuned for updates from Trout Unlimited staff on their work in the Deschutes River Basin and ways you can help improve conditions for wild steelhead in the basin.